Home
Welcome to Kinder Kollege!
"Inspiring lifelong learners and preparing your child for a successful academic life"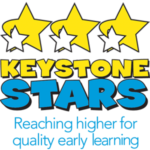 We are a Three-Stars (KeyStone Certified) facility providing the best caring needs for your child. As a community, we believe that every member of Kinder Kollege is a shining star, and we want him or her to discover that path with our guidance. The Kinder Kollege community is comprised of both childcare and advanced educational programs ranging from Nursery, Young Toddler, Toddler Graduates, Pre-K to after school tutoring and extra-curricular activities as well as summer camp.
Unlike the average daycare, we go beyond taking care of just the physical needs of our children. We provide an individualized education, as well as a community education that continually evolves to meet the child's emotional, social, intellectual and physical development. We scaffold our students' reading, writing, mathematical and higher-order thinking skills to improve problem areas, while also guiding them in further exploring areas of high achievement.
At the end of the program, your child will enter elementary education with the independence and confidence necessary to continue working on those challenging areas and to soar toward future academic success. Kinder Kollege is a place for everyone. We encourage you to be a part of the experience and help us grow to foster early education, as a community, for generations.
During inclement weather please be sure to check our website for updates and/or check the Philadelphia School District website which we follow by Clicking Here